It may be a given that driving at night is inherently more dangerous than driving during the daytime, but do you know why?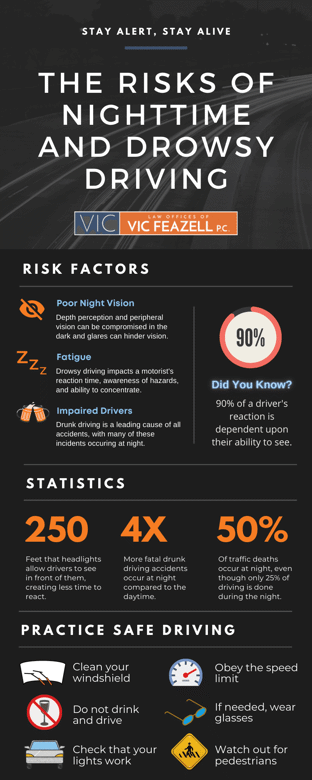 The reality is that several factors come into play when it comes to nighttime driving. We gathered some data from the National Safety Council to break down the dangers that lurk when driving at night:
The most common risk factors include:
Poor Night Vision. Depth perception and peripheral vision can be compromised in the dark and glares can hinder vision.
Fatigue. Drowsy driving impacts a motorist's reaction time, awareness of hazards, and ability to concentrate.
Impaired Drivers. Drunk driving is a leading cause of all accidents, with many of these incidents occuring at night.
90% of a driver's reaction is dependent upon their ability to see.
Headlights allow drivers to see only 250 feet in front of them, creating less time to react.
fatal drunk driving accidents occur four times more frequently at night compared to the daytime.
50% of traffic deaths occur at night, even though only 25% of driving is done during the night.
Safe driving practices for the nighttime include:
Clean your windsheild
Do not drink and drive
Check that your lights work
Obey the speed limit
If needed, wear glasses
Watch out for pedestrians
If you or a loved one is injured by a drowsy, impaired, or otherwise negligent driver, please know that the Law Offices of Vic Feazell is here for you. Please don't hesitate to reach out for a no-fee, no-obligation consultation for fierce legal advocates who will help you pursue a full financial recovery.
Contact our firm at (254) 938-6885 to learn more about your legal options. We have four convenient office locations in Texas.