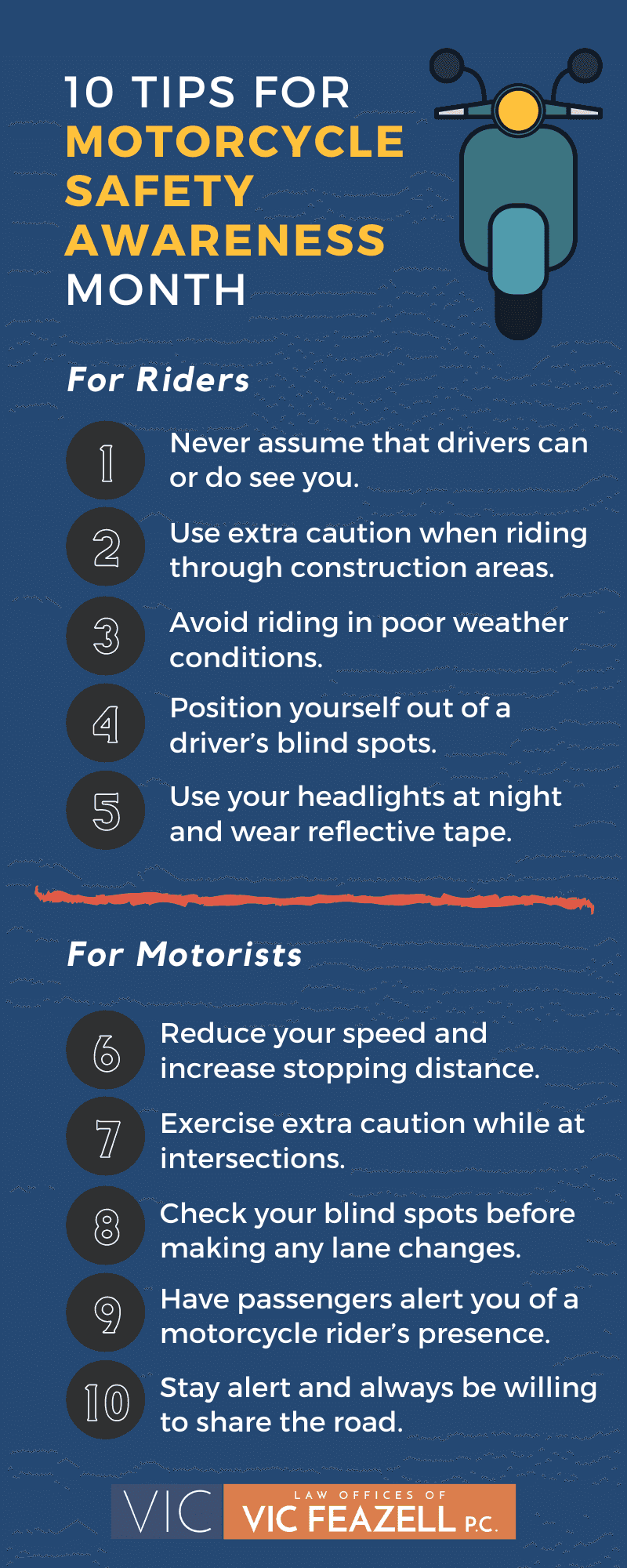 After a long, cold winter in Texas, many motorcycle enthusiasts look forward to hopping on their bikes to enjoy a ride and soak up some sunshine. But, with more riders on the road during the spring and summer months comes increased risks of motorcycle accidents.
Both motorists and motorcycle riders play a critical role in preventing collisions and, particularly, keeping those on two wheels safe. In honor of Motorcycle Safety Awareness Month, the team at Law Offices Of Vic Feazell, P.C. would like to remind everyone to do their part.
Riders Should:
Always ride defensively. Never assume that drivers can or do see you.
Use extra caution when riding through construction areas.
Whenever possible, avoid riding in poor weather conditions, including during rain, snow, or fog.
Always try to position yourself out of a driver's blind spots. Remember, if you can't see the driver in their side-view mirror, they probably can't see you.
Always use your headlights at night and wear reflective tape to improve your visibility.
Motorists Should:
Reduce your speed and always increase your stopping distance when driving behind riders.
Exercise extra caution at intersections. One of the most common causes of motorcycle accidents occurs when a driver fails to spot a rider at a left-hand turn.
Actively check your blind spots before making any lane changes. This means physically turning your head to ensure the path is clear.
Encourage passengers to alert you of a motorcycle rider's presence.
Stay alert at all times and always be willing to share the road.
We Are Here If You Need Us
We hope that these tips help you understand your duty on the road and the steps you can take to help yourself and others stay safe. Should you be involved in a motorcycle accident at any point in time, our legal team is here to help. Contact Law Offices Of Vic Feazell, P.C. to speak with our Waco legal team at your convenience!