Killeen Truck Accident Lawyers
TRUCK CRASH INJURY CLAIMS IN TEXAS
Truck accidents are perhaps the most dangerous and deadly type of traffic crash. A semi-truck carrying commercial goods can cause massive damage if it crashes into another vehicle, even at low speeds. Heavy truck accidents often result in severe injuries, such as spinal cord damage and traumatic brain injuries, and even death.
At the Law Offices of Vic Feazell, P.C., we understand how serious and devastating truck accidents can be. Our team of Killeen truck accident attorneys has decades of experience handling these kinds of claims and knows exactly what to do when an individual has been struck or killed by an 18-wheeler. We possess the knowledge and skills to determine the exact cause of the accident to ensure the correct entity is held liable for your damages and will fight to obtain the maximum compensation available.
Truck accident claims refer to collisions involving a heavy commercial vehicle such as:
18-wheelers
Big rigs
Box trucks
Delivery trucks
Dump trucks
Oil and gas trucks
Refrigerated trucks
Semi-trucks
Tow trucks
Tractor-trailers
If you have been injured in an accident with such a truck or other large commercial vehicle—or if a loved one has been killed—please don't hesitate to seek the legal advice and representation you deserve. Such accidents can be catastrophic and complex, so the sooner you consult with a lawyer about your case the better.
Get the legal help you deserve—call Law Offices of Vic Feazell, P.C. at (254) 938-6885 or write to us online to schedule your free consultation.
U.S. & TEXAS TRUCK ACCIDENT DATA
With its many highways and many more miles of road, Texas is often at or near the top of national lists ranking the states with the most traffic accident and fatalities.
Numerous trucks drive through our state on these roads every day to transport goods across the country. With its long stretches of empty roads and the vast distance between big cities, driving across Texas can be a challenge for every driver, even trained and experienced truckers.
Recent national and state truck accident date includes:
In 2018, 4,951 people were killed in crashes involving large trucks nationwide.
Most people injured or killed in truck crashes are the occupants of the smaller vehicles they hit. In 2018, for instance, 71% percent of people killed in large truck crashes were occupants of other vehicles, not the truck.
At a total of 621, Texas ranked first regarding the number of large trucks involved in fatal crashes in 2017, as well as the number of truck occupants and occupants of other vehicles that were killed.
Truck crashes are most likely to occur on weekday afternoons on highways and other major roads.
The best way to protect yourself from a truck accident is to give such vehicles a wide berth and to try to always stay outside a truck's blind spots. Visit the Federal Motor Carrier Safety Administration's (FMCSA) website for more information.
COMMON CAUSES OF BIG RIG ACCIDENTS
Commercial trucking operations involve numerous individuals, companies, equipment, and procedures to stay running. Every time a commercial vehicle gets on the road, at the very least there is a driver, their boss, and a loading company involved in getting the truck ready and where it needs to go—plus, numerous other operations behind the scenes.
For this reason, it can be difficult to determine who exactly is responsible for a truck crash. While you might assume it's always the trucker, it can actually be one or more of several individuals or entities.
Those who can be held liable for truck crashes may include:
The trucker/truck driver
The trucking company that employs the driver
The owner of the truck
The loading company that places cargo in the truck
The manufacturer of the truck and/or truck's parts
The person or company responsible for performing truck maintenance
The entity that designed, constructed, or maintains the road where the crash occurred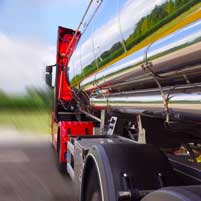 For example, truck drivers work long hours and have strict schedules. If they stay up all night driving and fall asleep at the wheel, they will likely be held liable for the crash. However, if a tire blows out or the cargo load spills out of the trailer, who is responsible then? It is important to work with a lawyer skilled at truck accident investigations to ensure you are filing a claim against the correct party. Since there are numerous factors that must be considered, determining liability in a truck accident is far better with an attorney than on your own.
CONTACT AN ATTORNEY RIGHT AWAY IF YOU'VE BEEN INJURED IN A TRUCK ACCIDENT
Then aftermath of a truck crash can be riddled with stressful and painful events. We want to help you navigate your legal challenges so you can focus more on your recovery and getting your life back in order. Let us deal with the complicated legal procedures and fight for your right to compensation so you can move on.
Call (254) 938-6885 or contact us online to learn more.
Read From Our
Many Satisfied Clients
If we don't put money in your pocket, you don't owe us anything.
"I was involved in my case as if I was on the team, and that made me feel comfortable with them."

Marquisha D.

"They really fought for me to ensure I received what I was entitled to. If you want a law office that cares about you and not a quick buck this is definitely the office for you."

Sonya D.

"I highly recommend Jonathon Zemek, the paralegal that worked on my file and kept me updated on a consistent basis. I am happy with the outcome and their professionalism throughout the whole process."

Monica R.W.