When a car accident occurs and a person is injured as a result, the injured victim may have the right to file a personal injury lawsuit against the at-fault driver. However, in order for the claim to be successful, a victim must prove the following three elements: the duty of care, the breach of this duty of care, and causation.
Element #1: The Duty of Care
Every driver has a duty to operate a vehicle in safe and non-hazardous manner to ensure that other individuals and their property are not damaged. This means that drivers are expected to abide by all traffic laws, speed limits, turn signals, traffic signs, and other factors in place to protect drivers. Failure to fulfill this duty of care constitutes a breach.
Element #2: The Breach of the Duty of Care
If a victim is harmed in an accident and he or she wishes to file a personal injury claim, he or she must prove that the at-fault driver breached his or her duty of care, causing a car accident to occur. In many cases, these breaches result in injured motorists, bicyclists, and pedestrians. While even minor breaches can result in serious accidents, there are egregious breaches of duty, such as drunk driving, reckless driving, and running red lights, that can cause catastrophic or fatal injuries. Such actions can result in not only civil liability, but criminal punishment as well.
Element #3: Causation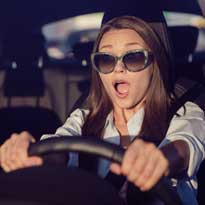 Lastly, it must be proven that the driver's breach of duty was the direct cause of the victim's injuries and damages. It is important to keep in mind that causation can be considered cause-in-fact or proximate. Cause-in-fact refers to the breach of duty being the direct result of the victim's injuries and damages. Proximate cause refers to situations in which a breach of duty may not be the direct cause, but the damage would not have occurred if he breach did not occur. For example, if a drunk drivers runs into a pole and the pole falls on a pedestrian causing the pedestrian to suffer a brain injury, the victim or their legal counsel can prove that the brain injury never would have occurred had the drunk driver not breached his or her duty to drive while sober.
Victims Should Seek Experienced Legal Counsel
Because it can be difficult for an accident victim to prove all elements alone, it is wise to retain experienced legal advocacy immediately after a collision occurs. An experienced lawyer can examine the case and gather any evidence needed to prove that the driver responsible for the victim's injuries should be held financially responsible.
At the Law Offices of Vic Feazell, P.C., our Austin car accident attorney are committed to safeguarding the rights of accident victims. If you or a family member was injured in a car crash caused by someone else, we encourage you to contact our legal team ASAP. When you choose to work with our firm, we will handle all of the legal aspects of your case so that you can focus on the road to recovery.
Discuss your case with a member of our team today! Our Austin car accident attorneys are standing by to protect your rights.